Technical Article => Software =>

Open Source
The Tale Of Perfect Checkout Page & Magento Online Store
---
I bet you've already googled every bit of advice on how to win customers. You've installed and integrated bazillions of extensions and marketing tools, rewritten every piece of text on your site, redesigned and rebranded your Magento store. In case you're still wondering why clients keep coming and going away without purchasing your goods, this article is for you.
I solemnly declare that every single piece of advice on leading a customer to buy from your online store, you've read so far is imperfect and defective. I understand your confusion, but let me explain. Saying that I'm not implying that those expert tips are incorrect - on the contrary, I'm sure they are great and effective. So, where is the catch, you ask? Well, they all lack at least one cornerstone phrase - "And make sure your checkout page is done right." The thing with e-commerce is that no matter how great you make the shopping experience for your customers, they won't purchase a thing if a checkout process is wrong and frustrating.
Here is a story from my personal experience. I've been doing apartment renovation a couple of months ago. I started to paint the walls with two buckets, but in the process I realized it wasn't enough to finish the whole room. I decided to order an extra bucket from that online store, which is well known for its fast delivery. It was an afternoon, so I had every chance to get the paint on my doorstep by 5 p.m. I made an order and waited 20 minutes for a return call. Then I called myself and asked whether they had received my order, and the answer was no. Within a moment a man, laughing, told me that I probably hadn't finished a checkout process. Luckily, I hadn't closed the tab and imagine my confusion when I carefully looked through the page once again. Although, it looked like a final page, with all those 'Thank you for your purchase', 'We'll return a call in a minute' and other kind of stuff, it also had a small button with a 'Confirm' on it. Why hadn't I noticed that? Simple - because by the moment I got there I had already gone through four pages and subconsciously waited for the signal like 'Thank you' to end this thing. The worst part here is that obviously an employee had already encountered situations like mine, but he wasn't concerned about the fact people don't understand where a checkout ends. I was already a loyal customer before that bucket order, but will I ever order something else from them? Doubt that.
So, what's wrong with checkouts and how to make it right?
Long way home
Why making a different page for a single input? Plus, lost connection will force a customer to begin from a 'Cart' page again.
Steps within steps
It happens when a customer has to register or sign in on the other page. You redirect a client and he immediately thinks there must be an error with his order and he must start over.
All over the place
A single Magento checkout page is great, but look at it one more time. Is it minimalistic, clear with all the highlights in the right places and large 'Ok' buttons? If not, take the mess away, delete the unnecessary media content and don't you ever confuse your clients again.
Your help is appreciated
Prefill the input fields if you're able to detect the country/city a customer is from. And absolutely you should have names for placeholders to keep the form clear and certain.
Remember what I've said at the beginning about imperfect tips? I hope that now you see how much you've underestimated the power of the final checkout step in the process. Be thoughtful about it and great results won't take long.
RELATED
---
0

COMMENT
---
---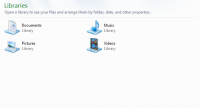 By sonic0002
Everytime you will see the above window when you click the left bottom icon next to the start menu on taskbar. But have you given a look at the openning window which shows the Library view? At least not for me.