Technical Article => Business =>

Facebook
Now Instagram supports short video sharing
---
This week we had one article If Instagram supports short video sharing. It said that Facebook might announce a new product in this week's press event on 20 June. In this article, the product to be launched was a short video sharing capability on Instagram instead of RSS reader as predicted previously. Yesterday the answer is revealed. Video on Instagram came out.
Video on Instagram enables you to share your story in another way. Now you can see a movie camera button next to the photo button. You can enter the video mode by tapping the movie camera icon. You can take up to 15 seconds videos and also you can select your favorite scene from the video and set it as the cover image. Also there are thirteen filters added to create beautiful videos and then share them to others.
Now Instagram has the same feature as Vine which now is an application of Twitter. But Vine can only take videos p to 6 seconds, also Vine has no function for editing the video, once the video is shot, you cannot edit it, if you are not satisfying with the video, what you can do is deleting it and reshoot it again. Moreover, the video on Vine will be played repeatedly, but are you really want to watch the video again and again? So due to all these, Instagram will definitely take some users from Vine.
Now the competition between Facebook and Twitter is up to another level.
RELATED
---
0

COMMENT
---
---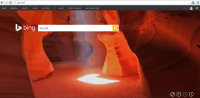 By sonic0002
When you type abc.xyz, you will see the homepage of Alphabet, the new parent company of Google. But what if you type abc.wtf in your browser address bar? Go and give a try and don't forget to give us a like.