Technical Article => Software =>

Multimedia
Mozilla releases an online editing tool --Popcorn Maker
---
Firefox developer Mozilla has been sparing no effort to promote the development of HTML5 and Web App They officially released a product: Popcorn Maker 1.0. It lets people edit video online and produce video with interactive features.
Popcorn Maker video editing website page is similar to the ordinary video editing software, but the interface is simple and easy-to-use. You can edit the video content with simple select and drop and drag options, including inserting text, links, maps, Twitter information flow and Wikipedia entry to videos.

With Popcorn Maker, you do not need to buy complex video editing software, no need to download video files. As long as you have a browser, you can create and publish your video

Brett Gaylor, the Mozilla Popcorn department person in charge, says that videos on the Internet are trapped in a small black box, what people can do is only playing and pausing videos. we hopes Popcorn Maker can change this situation, so all video can be truncated, linked and mixed.
With Popcorn Maker, video editing will become very simple. Ordinary users, filmmakers, developers and students can easily create their own video, and it's free and easy to share.

Popcorn Maker uses open page elements, it is written using HTML, CSS and JavaScript. From 0.1 in 2011 to 0.9, Popcorn Maker fixed 4000 bugs, 60,000 lines of code. Now Popcorn Maker is available to everyone, If you are interested, you can have a try with it.
Source : http://www.36kr.com/p/170109.html
RELATED
---
0

COMMENT
---
---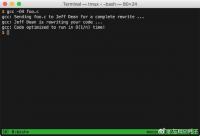 By sonic0002
This pictured is authorized to publish here by Sina Weibo user @左耳朵耗子