Technical Article => Business =>

Facebook
If Instagram supports short video sharing
---
According to TC, the mysterious press event about Facebook on 20 June may not relate to some RSS reader, it may relate to one function to be released by Instagram--Short video sharing.
This is not without proof, there was news that Facebook was testing short video sharing internally, but they were not sure about whether building a independent application with filter capability or adding the feature to Instagram. The short video should have a duration between 5 and 10 seconds.
Facebook usually wins with its speed, they defeat others with brave trails and fast speed. Here others include Vine apparently, Vine belongs to Twitter, and previously Instagram has some conflicts with Twitter, photos from Instagram cannot be displayed on Twitter Card. Now Vine is famous, Instagram belongs to Facebook now. From the experience of Snapchat, this time Vine can not get away from Facebook.
If Instagram really launches the short video sharing function, the result will not be like its Poke. But it will also not be able to stop the Vine expansion trend. It's a defend for Facebook.
Source : http://www.36kr.com/p/204024.html
RELATED
---
0

COMMENT
---
---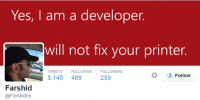 By sonic0002
Yes, I am a developer. I will not fix your printer.