Technical Article => Programming =>

Objective-C
TIOBE : Objective-C overtakes C++
---
TIOBE
recently released the programming community index for July. From the index,we can find that the biggest change is that Objective-C overtakes C++ as the 3rd most popular language among programmers. Because of the popularity of iPhone and iPad, Objective-C is used by more and more mobile developers who want to develop apps for Apple products. Also, many developers are willing to develop apps for Apple since they can gain more profit on Apple platform than on Android platform.
C++ is mainly used for developing high performance large systems, this is different from Objective-C which is mainly for mobile app development. So there is no much direct competition between these two languages. The only competition is platform, i.e, whether Apple platform will continue grow, if yes, then more and more developers will use Objective-C.
Java's popularity drops and it is in the 2nd position and with a 3.16% drop compared to the same time last year. What's wrong with Java?
For other languages
TIOBE

Programming

Community

Index

is

an indicator

of

the

programming language

trends

.

It is updated monthly

, this

list

is

based on

the

number

of

experienced programmers,
courses
and third-party
vendors
on

the

Internet

.

It uses

the

well-known

search engines

(such as

Google

,

MSN,

Yahoo)

as well as

Wikipedia

and YouTube

to calculate the ranking

.

Please note that

this list

is

merely a reflection of

the

popularity

of

a programming

language

, does not indicate

whether

a

programming language

is good or not.

For more detail analysis of this month's language ranking. Please refer to
http://www.tiobe.com/index.php/content/paperinfo/tpci/index.html
RELATED
---
0

COMMENT
---
---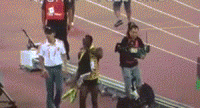 By sonic0002
Usain Bolt won the 200m short run gold medal in Beijing. When he wlked off the track, he was suddenly hit by a camera man. Oh, no. This should be seen on a football court only.