Technical Article => Hardware =>

Tablet
52.4 million tablet shipments in Q4 globally
---
IDC released the global tablet shipment report for Q4. The total tablet shipments in Q4 were 52.4 million globally. It set a new record where the shipments increase 75.3 annually and increase 74.3% compared to last quarter which had shipments of 30.1 million.
Among all the tablets vendors, Apple iPad's shipments were 22.9 million which ranks the first place among all vendors. It takes 43.6% market share. Samsung has 7.9 million shipments, increased by 264% compared to the same period last year. It takes 15.!% market share in Q4.
Although Amazon doesn't release its data about Kindle shipments, IDC's data shows the shipments of Kindle are around 6 million. It takes 11.5% market share. While Microsft's Surface RT didn't get into the top 5. IDC predicts the shipments were only 900000 shipments. IDC suggests that Microsoft should provide low price and small screen tablet devices.
Now it seems in tablet market, many vendors have chances to take more market share, this will lead to more competitions among vendors compared to smartphone market.
Source : http://www.36kr.com/p/201122.html
RELATED
---
0

COMMENT
---
---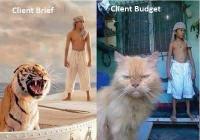 By sonic0002
Sometimes plans are quite different from realities. This is true especially in IT induestries. Usually when a client starts to present their plan, they have a really great vision. However when comes to the budget, the client runs into difficult.