Technical Article => Business =>

Google
Google upgrades its built in calculator
---
Google search engine is more and more intelligent.

It has been a long time since Google integrated a built in calculator in its search engine. Today, Google upgraded its built in calculator function in its search engine, a new calculator interface with 34 buttons is added.

Before upgrading, if you type 6+7 in the search field, Google will only show the answer 13. But now, if you enter this formula again, in addition to the answer, it will display one calculator interface with 34 buttons. See following picture:



The function of the built in calculator is similar to a real calculator, the functions including sin/cos, tan, log and exponential etc.

Reference : http://www.36kr.com/p/139172.html
RELATED
---
0

COMMENT
---
---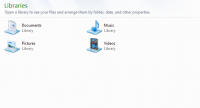 By sonic0002
Everytime you will see the above window when you click the left bottom icon next to the start menu on taskbar. But have you given a look at the openning window which shows the Library view? At least not for me.