Technical Article => Programming =>

Java
Top 10 essential Java classes
---
When we write Java programs, we will frequently use some classes such as java.lang.String. There are some essential Java classes which we may use frequently, there is no strict rules for the selection of essential Java classes, in fact there are no rules followed. It depends on what projects you are doing or what you have done,, so every one may have his own choices about the top essential Java classes in his mind. Here we list the top 10 essential Java classes you may agree with.
1. java.lang.String2. java.lang.System
3. java.lang.Exception
4. java.util.ArrayList
5. java.util.HashMap
6. java.lang.Object
7. java.lang.Thread
8. java.lang.Class
9. java.util.Date
10. java.util.Iterator
For detailed explanations about the list, please visit :
Top 10 Java classes
. What's you choice?
RELATED
---
1

COMMENT
---
---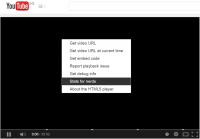 By sonic0002
The YouTube HTML5 player is naughty. As a nerd, you can view the stats of the video playing now. These stats are not how many views or likes but how many frames are dropped and bandwidth etc. Google always brings us some surprise.