Technical Article => Big Data =>

Hadoop
Data governance Challenges and solutions in Apache Hadoop
---
Do you understand meaning of data governance? This is taken as most critical part of an organization that deals with sensitive data of an enterprise. If organization wanted to know who is accessing their sensitive data and what action has been taken by the viewers then data governance is wonderful solution to consider.
In this article, we will discuss on data governance solutions and what are the challenges that are faced by organization during implementation of data governance. We will also discuss on Cloudera Navigator in brief to address the challenges of data governance in Hadoop architect.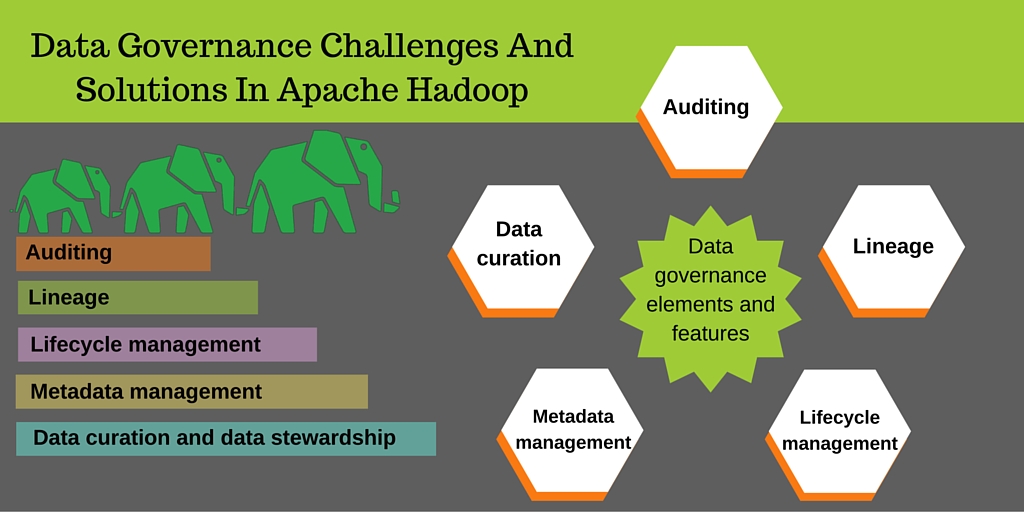 Data governance elements and features
The every organization who wants to protect its sensitive data, data governance is truly important. Let us have a quick look on data governance elements and features that helps you in understanding the concept better and how it can be best utilized in your favor.
Auditing – here, detailed record of every accessed element is maintained like user Id, Password, resources etc.
Lineage – keeping track record of data sets and how they are consumed over time.
Lifecycle management – It follows source and sink concept that implies data management from ingestion phase to retirement. All the phases coming in between are managed parallel.
Metadata management – Data partition that is done logically or technically. The process allows easy access to data based on tables, numbers, attributes etc.
Data curation and data stewardship – here, data is properly configured and catalogued for quick and easy accessibility.

What are the challenges?
Hadoop stores everything either it is structured or non – structured. This is the reason it is very hard to distinguish which file contains the most sensitive data and how to filter it to stay protected.

Data is managed in clusters and each cluster can be accessed by different users through different ways. It breaches security and sensitive data can be read out by plenty of data scientist users.

Core elements of data governance are same from decades but the ways how they can be carried varies from time to time.
Undoubtedly, the biggest advantage of using data governance techniques is large volume of data can be accessed at a single time. The flip side is that it is difficult to keep an eye on who is accessing your data and what action has been taken over it. Let us see how to overcome these challenges to get most complicated stringent governance solutions.
Auditing should be unified
Cloudera Navigator is turn-key data governance solution that informs you about the persons who are accessing your data and what action is made later on. Cloudera Navigator performs unified auditing to access each data object and creating new ones.
Cloudera Navigator performs column level lineage and quickly integrates with all top level lineage frameworks of an enterprise. Workload has also been made interactive that include Hive, Hbase, MapReduce file system etc.
Metadata should be unified
Cloudera Navigator simplifies metadata access and metadata management. Now you can check degree of sensitive data yourself. It also maintains data quality and level of security has been enhanced significantly.
In this way, we can address data governance challenges that have to be faced by Hadoop consulting firms and Hadoop architect developers during Hadoop integration development. To get more details on data governance solutions or Cloudera Navigator technology, you can contact us now.
RELATED
---
0

COMMENT
---
---