Technical Article => Mobile =>

Nokia
Why does Symbian collapse?
---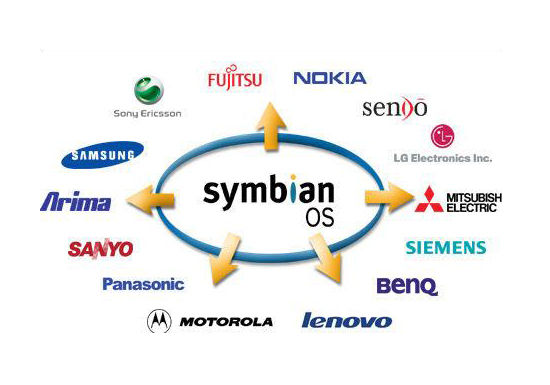 On 24th January, Nokia announces a disappointing news that they would give up Symbian. The 808 PureView released last year will be its last Symbian model.
Symbian was born in 1998, it was supported by the then three mobile giants : Sony Ericson, Motorola and Nokia after its birth, later Samsung and LG also joined the Symbian camp. In 2000, the first Symbian model in the world Ericoson R380 was released, in 20006, there were over 100 million Symbian handphones on the market.
But in 2007, the release of iPhone totally changed the mobile phone industry. The entry of Android sped up the steps for leaving Symbian. Nokia became the only one which still produced Symbian handphones. In 2011, Nokia could not hold it and turned to Windows Phone and gradually left Symbian until it finally announced the death of Symbian on 24th January which is 3 years earlier than it is supposed.
So what caused the collapse of "Nokia Empire" in just 7 years? Why does Symbian fail?
20 million lines of source codes
Compared to iPhone and Android, the current Symbian is old, big and heavy. In 1998, it was not like this, it was born for mobile devices. In fact, it was like its precedence EPOC(Electronic: Piece of cheese).
But during its 15 years history, many new features were added and it grew bigger and bigger. Some other Symbian manufacturers made some surgery to it as well according to their own needs. When it came to Symbian 3.0. It is fully functional, but the consequence is its very complex.
In Juhani Risku's book "New Nokia", he mentioned when he talked about Symbian that the developers even could not find the source code for changing the prompt window 5 millimeters smaller because there were 20 million lines of source codes.
Nokia never paid attention to the complexity issue of Symbian. they don;t have the solution to the problems of Symbian and what they did were just providing patches on the original system.
Developer community? Nokia never has one
Today, iOS, Android, Windows Phone and Blackberry are all emphasizing on the cultivation of the developer community and the construction of the entire application ecosystem. In contrast, Symbian and its main supporter Nokia seems to lose focus on software development.

After the first Symbian phone Ericsson R380 released two years, many businesses and individuals developed Java applications for Symbian, there were many applications including IM software, browsers and games. However, this thriving situation has not evolved into a rich ecosystem vitality, the reason is that the mobile Internet was far from forming Symbian development team also believed that the basic functions of the phone were enough and other functions were not so important.

In this case, the Symbian application could only be spread on PC side through various forums. Later, they came up with a signed certificate system in 2007. The intention of this system is to improve mobile phone security, but soon users found that it was too troublesome for applying the certificate. Many people gave up Symbian. It greatly curbed the development and promotion of Symbian applications.

The developers were struggling, too: API (application programming interface) is also very difficult to use. On other platforms, you can find the corresponding API to achieve a function, but in Symbian platform to implement a function, you need to use of a number of APIs.

If the development difficulty can be overcome, then the commercial prospects made developers disappointed. Apple's App Store is the most successful application ecosystem, and there is a complete industrial chain such as music, video, games, books,behind it. Developers and Apple can make money; from every application developed by developers. In contrast, Symbian manufacturers were fighting each other in the early stage of development, there was no emphasis on interdisciplinary cooperation. As a result, developers have diverted turned to Apple and Google.

Although the Symbian platform application system started early and also had a large number of excellent software, it never really focused on applications and developers.
Bureaucracy buries Symbian

Without iPhone and Android Symbian Empire can sit back and relax. Despite the defects of the system itself leads to the pain of developers, the Symbian was able to meet most people's needs.

But Jobs told the world that the phone was not just a communication tool but a way of life in 2007.

Nokia initially thought that Jobs was busy with selling iPod and Jobs did not understand the mobile phone, iPhone was a product which could not succeed. The Finnish giant thought the core functions of the phone were making calls, all the other functions were not important.

On the other hand, Nokia still launched non-touch-screen Symbian models, they had to spend more time, maintaining the increasingly bloated Symbian system, rather than considering to reinvent the entire system.
According to the description of the "New Nokia", Nokia has 5000 R&D personnel, 500 of them belong to the top talent, they were able to come out some excellent ideas frequently. Unfortunately, due to the tedium and complexity of the approval process, these ideas were often unable to translate into products. In addition, Nokia obsessed with statistics and market research so that the most common webpages on its website are user surveys. They hope to action only after getting user needs. This clearly confined its innovation and slowed down the speed of research and development.
From the point of view of the fatalistic the root cause of the collapse of Symbian Empire is it first abandoned the era, the era ruthlessly abandoned it at last. With the birth of iPhone, the connotation of the phone has been greatly expanded, it no longer just a phone and texting tool, but a tool can meet the multiple needs of mobile digital communications, entertainment, social networking and work. Symbian and Nokia emphasized too much on the communication function, Symbian is outdated.
Source : http://tech.sina.com.cn/t/csj/2013-01-25/18558016653.shtml
RELATED
---
0

COMMENT
---
---