Things should not be done at your desks?
We usually do all sorts of things at our desks. We may think, socialize and sit at our desks.But are these things we are suppose to do at our desks? Nobody does their best thinking sitting at their desk.Your desk is for executing; do your thinking elsewhere.What should be done at our desks and what should not be done at our desk?
0

ANSWER
---
No answers available. You can post your answer below.
POST ANSWER
---
Sorry! You need to login first to post answer.
OR
SUBSCRIBE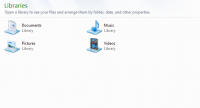 By sonic0002
Everytime you will see the above window when you click the left bottom icon next to the start menu on taskbar. But have you given a look at the openning window which shows the Library view? At least not for me.