Do you like the new Digg?
Digg has redesigned its website recently. The new design is quite different from the previous design. From the news layout, log in to link submit. It seems everything on Digg has been changed. To be honest, I am lost in the new Digg, I cannot find what's going on with my new submissions, I don't know where the link categories go. What's your feeling about the new Digg? Do you like it?
0

ANSWER
---
No answers available. You can post your answer below.
POST ANSWER
---
Sorry! You need to login first to post answer.
OR
SUBSCRIBE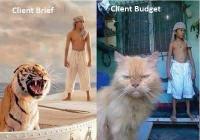 By sonic0002
Sometimes plans are quite different from realities. This is true especially in IT induestries. Usually when a client starts to present their plan, they have a really great vision. However when comes to the budget, the client runs into difficult.