Are you sad for what happens to Digg?
Digg website is sold for half a million US dollars. It was once worth 160 million US dollars. In 2006, it was one of the top 25 websites in US. It has over 7 million independent visitors monthly. But now, it is sold for a very low price. Are you sad for what happens to Digg? What are the reasons for such a low price? What mistakes did Digg make?
0

ANSWER
---
No answers available. You can post your answer below.
POST ANSWER
---
Sorry! You need to login first to post answer.
OR
SUBSCRIBE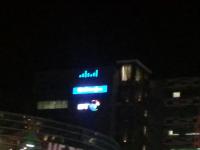 By sonic0002
A Cisco logo on one Cisco building. Does this reflect the status quo of Cisco where it loses its power or signal in the network market? Obviously it's in a tough stage.