Technical Article => Web =>

CSS
LESS/SASS/Stylus development tools summary
---
LESS,SASS and Stylus are more and more popular among developers. More and more people are using these three tools now. Here we introduce some development and testing tools which can make our development process simpler.
SublimeText
Many front-end developers are now using Sublime Text 2 as their main text editor, there are many plugins in Sublime Text as well. We can use Ctrl+Shift+P –> install package to search relative plugins.
Chrome
The latest version of Chrome now supports SASS, click the Setting button at the right bottom corner of Developer tool. Switch to Experiments Tab to enable it.
Hope it supports LESS by default.
There are also some third party plugins available.
Firefox
CssGaga supports LESS
The latest version of CssGaga now supports LESS file processing automatically.
Reference : http://www.qianduan.net/summary-of-less-sass-stylus-development-tools.html
RELATED
---
0

COMMENT
---
---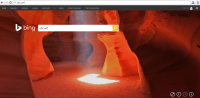 By sonic0002
When you type abc.xyz, you will see the homepage of Alphabet, the new parent company of Google. But what if you type abc.wtf in your browser address bar? Go and give a try and don't forget to give us a like.