Technical Article => Programming =>

Programming
Top 10 WhatsApp Tips & Tricks To Try in 2017
---
If you are reading this post, you would already be using WhatsApp. This messenger app handles more than 30 million messages every day with end-to-end encryption. In fact,
WhatsApp has turned out to be a standard term for internet messaging. As of a February 2016's blog of WhatsApp, the app had more than
1 billion active users
who could have sent messages and made voice and video calls. The app became headlines in the tech world when Facebook bought it for 19 billion in October 2014.
So WhatsApp is world's most popular messaging app with millions of active users but do you know all its features? I guess you don't even if you have been using it for several years. This post is an effort to make you a power WhatsApp user. Here are top 10 cool tricks & tips you should try in 2017 and prove yourself a power WhatsApp user -
Edit a picture before sending
Many people like to put stickers, draw doodles, enter text and write something on pictures before sending to their friends & family members. Users use other picture editing apps to do this but now with latest update, these picture editing features are available in the WhatsApp itself.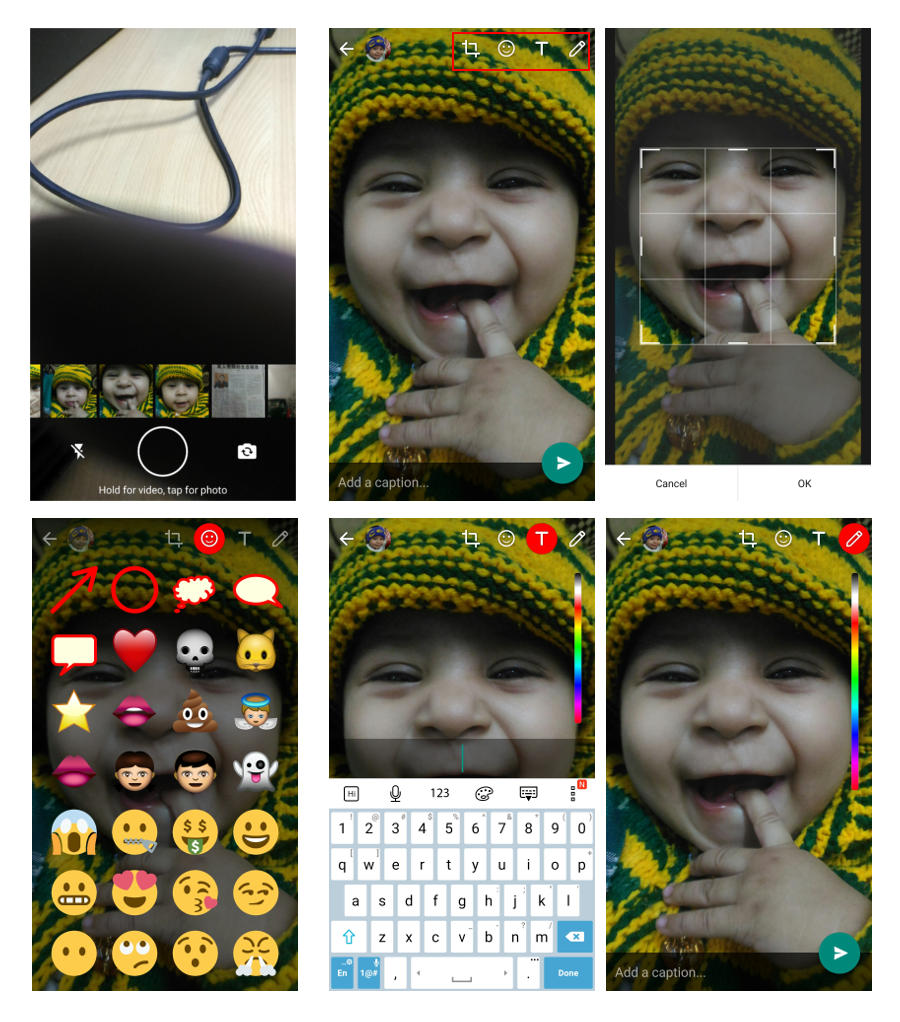 How to do this -
While sending messages to someone, you would have noticed camera icon at the right of the messaging box. Upon tapping you would see camera is open with slide-able gallery showing recently clicked pictures above the "Hold for video, tap for photo" button. Take a picture or use one from the gallery to edit it.
Now you will see crop, sticker, text and pencil icons on the top. They allow you to crop a photo, put sticker on it, write text and draw anything you need – just like your image editing app does.
Send animated GIFs (for iOS only)
Now iOS device users having WhatsApp version 2.16.15 can send GIFs, even to friends having WhatsApp in Android phone. This feature isn't available for Android that means Android users cannot reply with GIFs.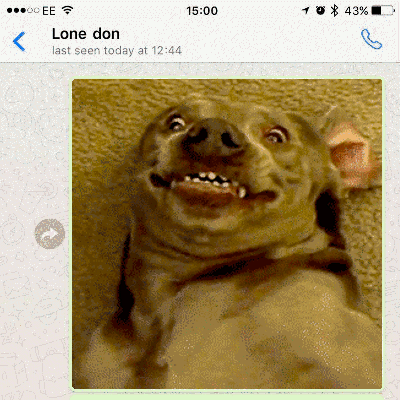 How to do this -
Press the + icon and then reach Photo & Video Library app. Select a video up to 6-second long. Also, you can use 3D touch on the Live photo from the Camera roll and then swipe up to select Send as GIF.
Users can also copy and pest GIFs from Giphy if their iOS devices have GIPHY Keys app. Open this app and enable "Allow Full Access". Now come back in WhatsApp app, press the world symbol to switch other keyword and then search for your GIF. Tap on any one, copy it and paste it into the message.
Tag other members of Group in your message
Now WhatsApp also allows tagging friends in messages like Facebook does. The feature is available only for WhatsApp groups. You can easily tag any member of a group to get their attention even if they have muted the conversation.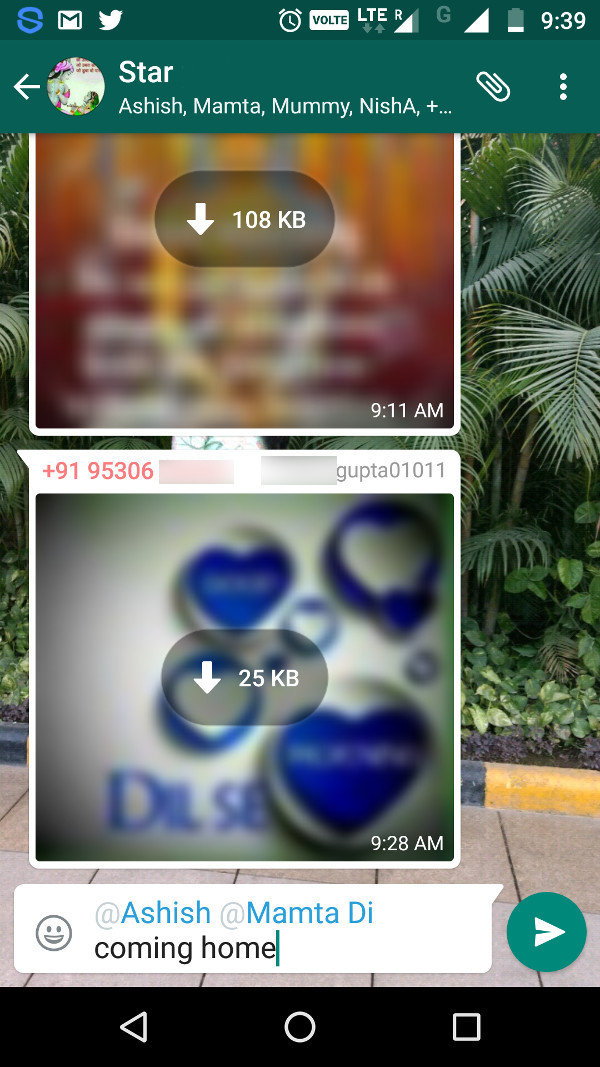 How to do this
When you need tagging a group member in the message to get their attention on that message, simply type @ and you will see a list of all group members is open from which you can choose particular members and tag them.
Format your messages
If you have got bored with the plain text then here comes the surprise. Now you can add bold, italic and strikethrough to your message. Your WhatsApp updated to version 2.12.535 (on Android) or 2.12.17 (on iOS) lets you add minimal formatting to your messages.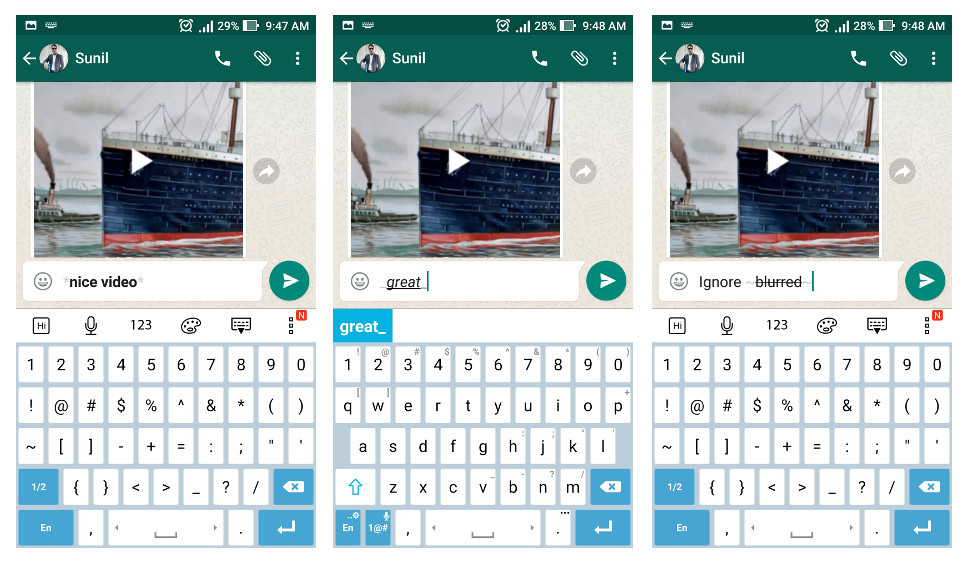 How to do this
To bold – add asterisks in the beginning and at the end of your message (*nice video*)
To italicize - add underscores in the beginning and at the end of your message (_great_)
To strikethrough – add tildes in the beginning and at the end of your message (~blurred~)
Hide 'Last Seen' status
WhatsApp keeps displaying when you were last active on the app unless you disable this feature. But you can disable your last seen status and stay in shadow while using the app. But there is a catch. It's that you will also not be able to see when your friends were last online.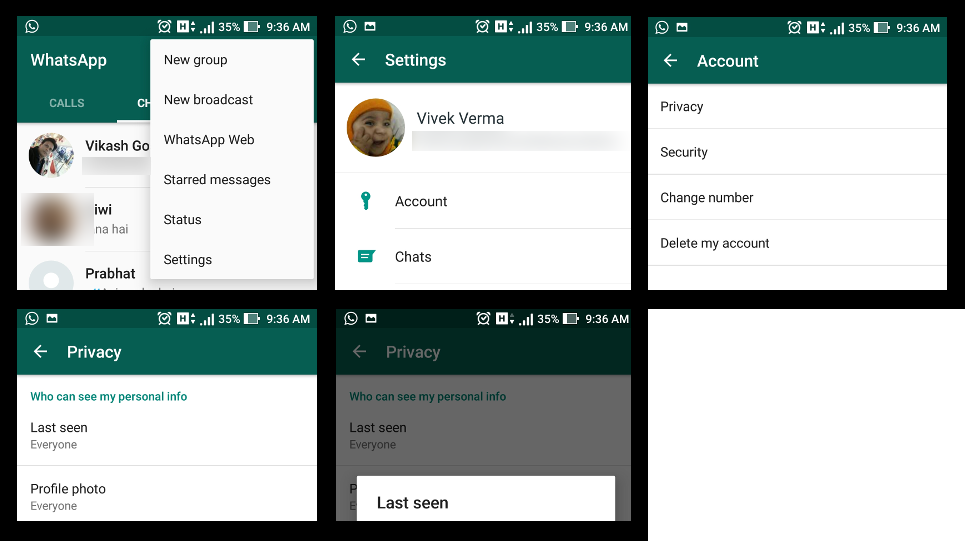 How to do this -
On both Android and iOS devices, simply open Settings then tap > Account > Privacy > Last seen. Upon tapping a popup will appear showing three options: Everyone, My contacts and nobody. Choose Nobody and your last seen timestamp will be hidden. You will access your WhatsApp without anyone knowing when you were last online.
Disable Read Receipts
You can also disable 'Read Receipts' just like the 'Last Seen' timestamp but by disabling this feature you too won't know whether the message you sent, have been read by others recipients or not. Also, group message read receipts will still be sent.
How to do this –
Open Settings and then tap on Account > Privacy and toggle the 'Read Receipts option off. It's done.
Backup and restore WhatsApp conversations
WhatsApp has been offering the feature to backup and restore messages from a long time ago but many people still don't know about it. When enabled, the app automatically takes back-up of chats and media. In case your phone is damaged or lost, you can easily take back up of all your content. The app takes backup automatically once every few days / week but you can also make manual backup if you need.
How to do this
If you need taking back up of your messages manually, do following in iOS and Android devices
iOS – Head to Settings and then tap on Chat > Chat Backup and tap 'Back Up Now' (check 'include vides' if not already checked).
Android – open Settings > Chats > Chat backup and tap 'Back Up' to create backup through WhatsApp servers or to Google Drive via login in with your Google Account.
If you need restoring chat, just uninstall and reinstall WhatsApp. When installing app again, you will be asked to restore the app with the most recent backup.
Find your WhatsApp 'Best Friend'
Do you want to know who do you interact the most on WhatsApp? Of course you do. But sorry to say this feature is available only on iOS devices. Users owning iOS devices can now find out how many messages they have sent to particular contacts. This will give them reflections about who do they chat most.
How to do this -
Open Settings, go to Account, then Storage Usage and you should be able to find the total number of messages at the top of the page followed by a list of chats ranked on most > least messages.
Use WhatsApp on PCs and tablet. Reply to messages via tablet, PC or Mac
If you feel uncomfortable in picking up your mobile to answer every new chat then WhatsApp web is just the right feature for you. It allows you to use WhatsApp on your PCs, tablets or Mac via a browser.
How to do this –
Open WhatsApp web via URL web.whatsapp.com. You will see a page displaying QR code. Now head to the menu and tap on WhatsApp Web. The app instantly launches the QR camera feature which tries to scan something. Now focus the camera on the QR code that you opened in the browser on your PC. The app will scan the code and replicate itself on the browser in a flash. But there is twist in using this feature. You won't be able to use it if you disconnect data in your mobile.
Mute annoying Group Chats
If you are a member of a group that keeps sending annoying messages then you have power to mute all those chats and stay relaxed.
How to do this –
It is easy to mute a group annoying you. Simply open that group, tap on the name of the chat at the top and tap Mute for the duration you want to mute it. That's all.
Try these tricks & tips and be known as a power user of WhatsApp between your friends and family.
Author Bio:-
Sofia Coppal is the Digital marketing head of Rapidsoft technologies - one of the top Indian IT services provider company, offers a wide range of mobile and web application as well as website development services to clients from diverse industry verticals. She works in an iPhone application development company. Contact him if you're looking for an expert Mobile App Developer.
RELATED
---
1

COMMENT
---
---