Technical Article => Web =>

ASP.NET
Why Outsourcing .Net Services is a Growing Trend?
---
IT companies are focusing more on .net for application development. This is because; the .net platform empowers developers with a wide range of tools and libraries to create diverse applications in an easy and efficient manner. The dot net framework allows users i.e. developers, to design and develop applications that can interact with web services and a range of online devices.



.Net programming language is richer than others in many contexts. It has several objects oriented features like properties, generics and delegates, to name a few. Besides .Net has also played a pivotal role in bringing about a revolution on the Linux desktop with some great applications like beagle, ifolder, diva, tomboy etc.

For the end user, .Net allows access to applications that have the best quality, that perform well and can be securely used over smart phones, tabs and handsets.

The use of .net for app development is an emerging trend. Companies are focusing on the. Net platform for wide ranging reasons that we shall elaborate here:

1. The prime feature why developers prefer using .net framework is its simplicity and compatibility with other programming languages. It is easy to work with dot net framework, and the developed applications can be run over multiple hardware devices.
2. .Net programs run at native speed. With .Net, a programmer is not limited to JIT- just in time compilation, there are options like AOT - ahead of time compilation, and this helps programmers mitigate startup delays.
3. Dot net is object oriented and allows development of the most feature rich applications. It also offers powerful server controls and content display controls on webpage. Dot net frameworks thus have the capacity to connect business, clients and stakeholders. The installation of .net is very easy and less problematic as compared to other formats.
4. Another significant advantage of .Net framework is the higher security it provides. As a result, organizations need not invest in additional security set ups, as they can set it directly with .Net.
5. Windows .net framework does not use windows registry, instead it uses the software data that is stored in the code and accessed while running and installing. As a result the conflicts between applications or problems in the registry do not occur.
6. Microsoft .Net, allows quick scaling of projects, it also allows usage of shortcuts for development of applications that are highly intuitive.

From this we can conclude that, .Net framework when properly leveraged, allows application development with a plethora of benefits like enhanced usability, security, flexibility, and less clashes. These are exactly the reasons why, developers prefer the Microsoft .Net framework for innovative yet easy application development.
About Author:

Chirag Shivalker is Head of Technical Content team at CrispyCodes. He has more than decade long experience in writing technology and trend analysis. Chirag is expert in writing technology trends especially on Microsoft Technology such as Dot Net, Sharepoint, MS Dynamics, Microsoft Silverlight etc.
RELATED
---
0

COMMENT
---
---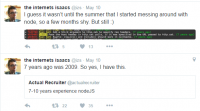 By sonic0002
When someone wants to hire someone with 7-10 years NodeJS experience, the NodeJS author jumped out and said that he had just 7 years experience of NodeJS because NodeJS was created in 2009, which is 7 years ago. What an embarrassment for the recruiter.