Technical Article => Software =>

PhotoShop Design
How to Create Custom Textures using Filters & Layers?
---
Textures are an important and integral part of the design world. You would find textures in every nook and corner of your life, in every space across your home.
For a long time people have looked at Photoshop as a tool to manipulate photos and make them look the way you want it to appear. But, that's not all to Photoshop. You can create interesting textures, and create amazing design works using Photoshop too. All you need is a design hand, and some basic understanding of how to use it. Here we will give you intended tips and tricks on how to create custom textures using Photoshop. This will come very handy!
Creating Textures Using Filters
Filters are not just used to change the way your photo looks! There is more to filter than that! Here, in this tutorial, you will see the true application of filters in Photoshop. With these filters you can create amazing textures, and build brilliant graphics too.
Multi Filter Technique
Let's begin with the multi filter technique to learn creating textures using filters. A lot of times you tend to apply only one filter, and leave the photo to fate. Well, you can do wonders by using more than one filter. Who said only one filter is allowed at a time.
In Photoshop, you will need to visit Filter>Filter Gallery to get a glimpse of all the filters available for you to dig into. There are various kinds of filters which includes artistic, texture, sketch, brush strokes etc. from which you can choose your filter. Mix and match a few filters and get the best look for your texture.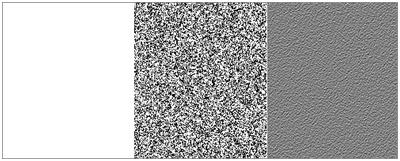 This is an excellent example of multi filters. When you combine and add noise filter and emboss filter to a blank canvas, you get this resultant texture. This looks amazing when you are designing a canvas board.
If you don't want to apply multiple filters, you can apply the same filter twice. This will also create an interesting design, one that you will love to see. These textures will affect your design in a better way.
If you want to edit your Photoshop docs on Fly, then try converting the regular objects to smart objects. This way you can apply smart filters and edit the picture or texture created in fly.
Tiling Textures using Filters
You can create tiling textures using filters in Photoshop. This is indeed an excellent application of filters. If you use some of the filters like Cloud, Noise etc. you will see that they tend to give a natural tiling effect. To create this effect you will need to increase the size of the canvas in powers of 2. For example using a noise filter on a canvas of 256x256 would create a naturally tiled effect.

This is an excellent example of tiling effect created by Cloud filter on a canvas sized 1024x1024
Texturing with Layer Styles
If you want to introduce textures to a blank canvas, there is no better way to do that than using layer styles. Photoshop has a variety of layering styles that can be used to create textures.
Blending Modes
This is the first layering style that you can use to create textures using Photoshop. As the name suggests, it blends the multiple texture layers you created, to create one complex and unique texture mode. Use grayscale mode for easy blending.
If you want a complex texture, you may not get it in one stroke. You will need to create several simple textures, and then blend it together to create the texture you desire.
Advance Blending Options
You would normally visit the layer style to blend the textures, but there is the advanced blending section too which you need to look at. There are some amazing and powerful blending options available here for you. You can see the effect created by a layer mask in this advance options. You also have a "blend if" slider towards the end of this menu. Using this slider, you can introduce complex blending options to your texture, and create a unique texture.
To create a smooth blend, always keep option or alt pressed and slide the slider.
Duplicating the Layer
An excellent texture is the result of a duplicate layer. How would you feel when you create two of the same kind of layer styles in Photoshop? This interesting technique can accomplish the task of an interesting texture without disrupting it. CS2 had introduced smart objects while CS6 has introduced adding layer styles. Combining these two techniques, you can reuse the layer to create multiple layer effects in Photoshop, which results in a brilliant texture.
So, try out these techniques, and give your images a cool effect!
Juned Ahmed works for IndianAppDevelopers.com an emerging mobile app developer company. He is passionate about mobile apps and web technologies. During spare time he writes blogs on latest trends in mobile app industry.
RELATED
---
0

COMMENT
---
---