Technical Article => Business =>

Microsoft
Steve Ballmer will retire from Microsoft within one year
---
Microsoft today announced on its official website that CEO Steve Ballmer will retire from Microsoft with 12 months. But he will remain as the CEO until the successor is named.
Steve Ballmer commented on his retirement as :
There is never a perfect time for this type of transition, but now is the right time, We have embarked on a new strategy with a new organization and we have an amazing Senior Leadership Team. My original thoughts on timing would have had my retirement happen in the middle of our company's transformation to a devices and services company. We need a CEO who will be here longer term for this new direction.
At the same time, Microsoft starts the process of seeking the new CEO, they formed a new special committe which is lead by John Thompson, the board's lead independent director. Chairman of the Board Bill Gates is also one of the members in the special committee.
Steve Ballmer joined Microsoft in 1980 and was the company's first business manager. He became the CEO of Microsoft in 2000. Before that he was senior vice president of sales and support. We still don't know what's the plan of him after his retirement yet. Although there is no new release about why he retires, but the poor performance of recent years of Microsoft may be the cause. Under Ballmer's management, Microsoft lost wars in search engine, tablet and mobile Internet. These fields are the major competition zones of different IT giants and they will be the future of Internet evolution.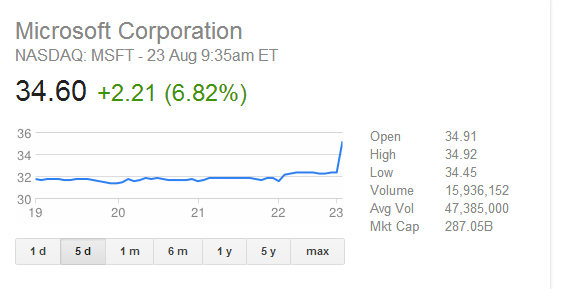 After this news release, Microsoft share price starts increasing. The closing price for MSFT was $32.39 on Thursday, but the opening price is $35.16 on Friday. Its share prices increased by $2.77.
RELATED
---
0

COMMENT
---
--- By sonic0002
A : "I have written over 100,000 lines of code in primary school" B : "Oh. So cool. Then what's after?" A : "Then I learnt how to write loop statements"