Technical Article => Programming =>

Erlang
Use of Erlang in WhatsApp
---
After many years, people are still discussing whether Erlang is a small language. People have all sorts of doubt about it, but with the appearance of WhatsApp, we may change our mind.
What is WhatsApp, from its official website:
WhatsApp Messenger is a cross-platform mobile messaging app which allows you to exchange messages without having to pay for SMS.
The more funny thing is the main developer of WhatsApp Rick Reed worked in Yahoo and SGI before he joined WhatsApp and he didn't have any knowledge about Erlang at that time:
Joined WhatsApp in 2011,New to Erlang
Later in another article:
Joined server team at WhatsApp in 2011,No prior Erlang experience
But after 2 to 3 years, he becomes the expert in Erlang. From his two PPTs, we can find that he exposed all the features of Erlang, he used best VM, cluster infrastructure, database mmesia and resolved many issues about data scale, memory pool and locks.
From some data below, we hope those who are still doubting Erlang can rethink about it.
The backend architecture is based on Erlang: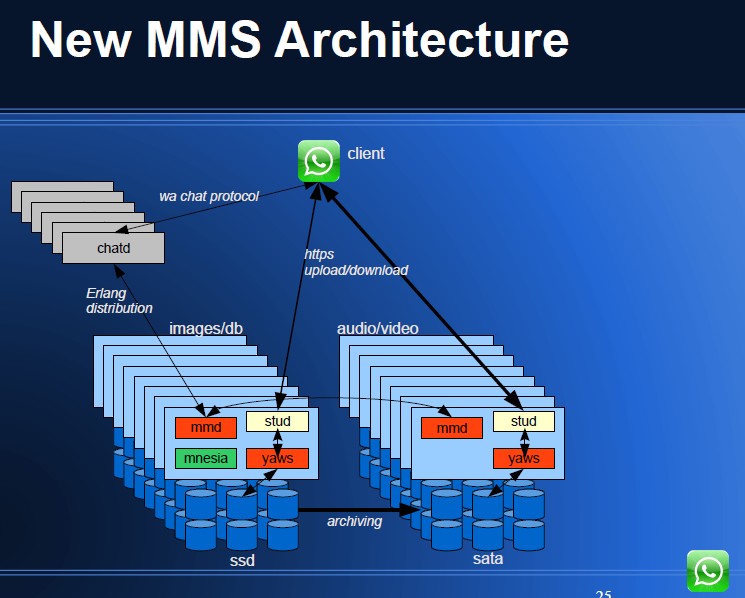 It has a push server can handle over 2 million long connections: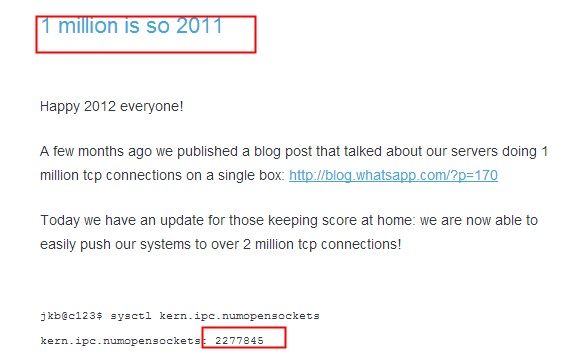 The scale of mmesia in WhatsApp:

Production system data: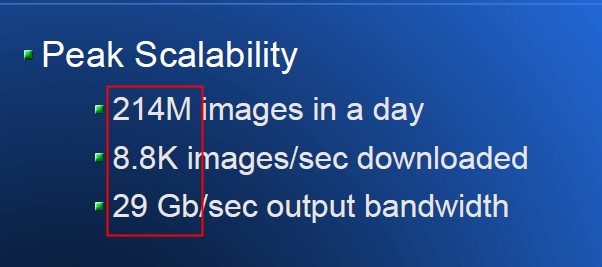 Messages per second: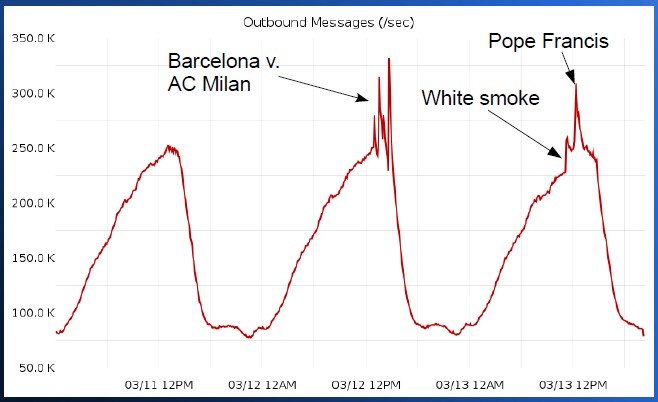 This company has a daily active user of 100 million. These users send messages to families and friends. Evey minute user spends on WhatsApp allows them to spend one less minute on Facebook. The last time WhatsApp updated its usage data is on October,2011. The messages sent per day at that time was 1 billion.
This app developed using Erlang has great potential and it has its own target. It wants to be one great mobile messaging system working on all mobile phones.
RELATED
---
0

COMMENT
---
---