Technical Article => Business =>

Alibaba
Alibaba launches NASA program
---
On March 9, the China E-Commerce giant Alibaba held its first internal tech conference in its headquarter Hangzhou. During this conference, Jack Ma, Alibaba founder, announced a new program code named "NASA" which aims to build up technologies serving 2 billion people in next 20 years by forming independent and powerful R&D department. On March 13, Alibaba formerly announced this program to the public.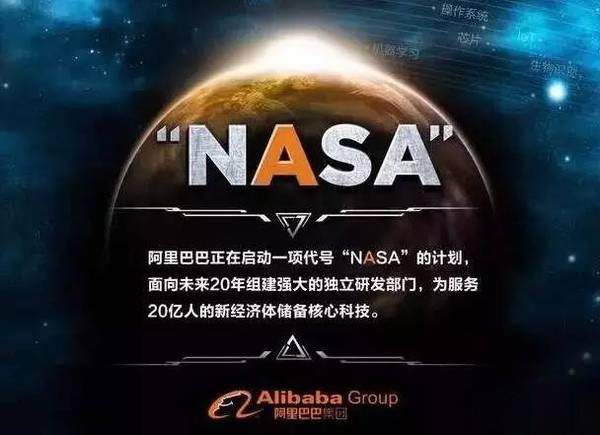 The research area of this program would include machine learning, chips, IoT, operating system, biotech etc. There will be brand new teams built and new management strategies created. This conference was opening to its own employees and most of the top management members including Chairman, CEO and CTO attended the conference. This is rare in Alibaba's history to see these people at one occasion.
In the past, Alibaba invested much on its cloud computing service(Aliyun) and IT infrastructure to fulfill its business requirement. It's two major good selling platforms -- Taobao and Tmall -- need to handle huge amount of requests at the same time, hence they need powerful IT infrastructure support. When IT infrastructure requirement is becoming eager, Aliyun came out to provide strong computing support both internally and externally.
What NASA wants to do is not just fulfilling the current business requirement, it tries to foresee what future demands. It's a bit similar to Google X, Facebook FAIR and Baidu IDL in this sense. But different from them, NASA will focus more on providing public APIs which can be provided to other companies or users instead of just keeping these technologies for internal use.
"Alibaba's vision for next 20 years is to become the fifth largest economy in the world. Serving 2 billion consumers, creating 100 million jobs and helping 10 million companies make profit", said Jack Ma.
RELATED
---
1

COMMENT
---
---