Technical Article => Other =>

Other
Singapore ISP SingTel experiences nation wide service down
---
On 3 Dec, 2016, many people from Singapore found that they were disconnected from the world the moment they waked up. Their Internet Service Provider(ISP) SingTel, the largest ISP in the country, experienced a nation wide service down incident.
The incident started at 8:21 am according to SingTel and all Internet service subscribers across the country are affected. The incident lasted for over 15 hours(The time this post is being written) and there is still no timeline for when the service will be back. People are all complaining about the service down and the inconvenience brought to their life on Facebook and Twitter. In just a few minutes after the company admitted the incident on Facebook, it gained thousands of comments reporting the service down for their area. Later after a few hours people start to lose patience and become more anxious since the service is still not back.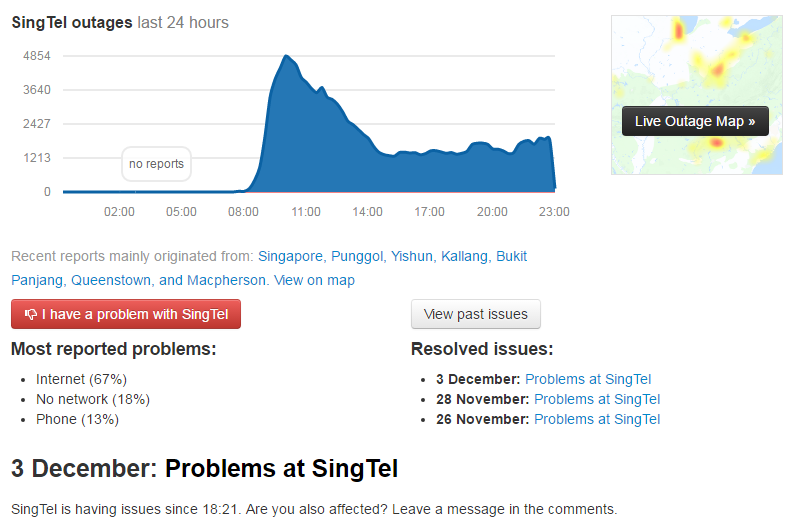 Though SingTel promised that customers who subscribed to SingTel's postpaid service get waive of their mobile data usage for 3 Dec, apparently people don't buy it because this is not only causing their mobile data usage to surge but also impacting their life and work. Worse is that people are losing patience and start to distrust SingTel. Customers cannot dial in the hotline and get to know nothing on the investigation progress and know nothing about when the service would be back. The response from SingTel is a total chaos.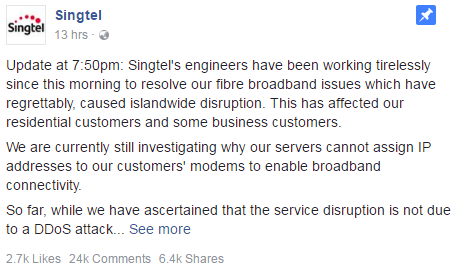 While SingTel is still investigating this incident and trying to resolve the issues. People do have a few concerns and doubts.
Is there no back up plan or the back up plan doesn't work at all? Normally for a service provider, especially for infrastructure service provider, there should be many back up systems and data centers which can be switched to immediately when this kind of incidents happen. Or if it's cyber attack, there also should be security systems which can locate the issue and isolate the problem and recover the service. It should not take so long...
How can customers get update they want on the progress? During the incident period, there is no much useful information revealed on what the incident is, what's the investigation progress and when will the service be back. The only message customers can get is to be PATIENT. This is barely unacceptable because people get to know nothing about the incident which makes them puzzled.
How can customers get compensated? For such a big service down incident, there should be compensation plans for those who get affected. It's not only that people can get data usage fee waive for the day, people want more. Though SingTel promised to waive data usage fee, people still get SMS saying their data usage is over 90% and worrying there will be over use charge.
How professional SingTel is? As the largest ISP provider in the country, there should be many exercises conducted through the year on how to handle such kind of incidents. It should be playing professional enough. However, the fact is its response to the incident is quite disappointing and unprepared. Why people should trust such a service provider in long term?
What will SingTel do in the future? Will SingTel be more prepared in the future? This is not the first time the service provider experience service disruptions. They should improve their service reliability and availability to stand out in the competition.
What can other service providers learn from this incident? For other ISPs in Singapore including Starhub and M1, they should learn something from this incident and be prepared in case future incident happen to their service so that people will not be so panic.
Many people would switch their contract to Starhub or M1 after this incident. But this is not the biggest problem facing SingTel, the biggest problem is whether they can learn something from the incident and offer better service in the future and regain people's trust.
RELATED
---
0

COMMENT
---
---