Technical Article => Mobile =>

Android
Is Mobile App Required For Your Business?
---
Having a mobile app for your business is the latest trend. Every business, large or small is aiming for developing a mobile app to attract customers and boost the sales. Products or services offered by the business do not matter in this case. The main purpose is to keep your users updated and engaged. An app is a perfect tool for generating new customers too.
The statistics reveals that numbers of mobile internet users are more than the desktop users. It clearly means that businesses must target mobile users for increasing actual sales. Developing attractive apps is the convenient way of inviting users towards your business. Once the app is developed you can send updates and advertise about your new ventures to a large group of customers at a time. Developing and maintaining mobile app is not a very simple thing and you have to dedicate some time and money for the same. If you are a business owner and thinking of a mobile app for your business? then just read this article. It would be a good idea to do a little introspection and then decide the strategy.
Target Audience – You are going to develop app for your potential customers. So you must check their status before going further. Check how many potential customers have smartphones and how many use internet facility. Knowing about their preferred mobile operating system and mobile operator is also important.
Budget And Time – App development is a common thing today. Every IT company provides App Development Service on the platform of your choice. But if you are looking for best quality apps, then the expenses could be on higher side.
App content and updates – Your job actually starts after your app is developed and launched in the market. It is your duty to keep users engage in something or the other to keep the contact alive. If you are not prepared to divot regular time and updates for your business through the medium of app, then the efforts of app development could go all waste. If users do not receive updates, they just remove the app from their phone and free themselves.
Looking at all three pointes mentioned above, you can take a stock of things at your end. If things seem manageable then you can certainly go for mobile app for your business. Other solution to address mobile customers is to create a responsive website which can be viewed properly on mobile device screens.
View more information on Outsource Android App Development, Android App Development Specialist and Android App Development Experts. This expertise of author has really been appreciated by viewers.
RELATED
---
0

COMMENT
---
---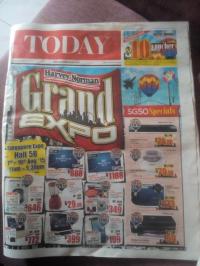 By sonic0002
TODAY Is a newspaper in Singapore. When I went by the MRT station, I got this free distributed newspaper. Then I was shocked by the first page of it. Where is the headline? Oh, is it Harvey Norman promotion?