Technical Article => Business =>

Google
Many Chinese applicants to US universities may be affected by Gmail cut out
---
Just after Christmas, many Chinese found that they could not connect to Gmail anymore in mainland China. Since Google announced leaving from China in 2010, the web version of Gmail was not accessible anymore. But people from China could still access Gmail through some Gmap apps. This time, Gmail is not accessible even with these apps.
It is said that all the mail service protocols of Gmail including IMAP/POP/SMTP have been cut out by Chinese government. This means no mails can be sent to or received from Gmail servers. This cut out has a big impact on Chinese users since many Chinese use it as their primary mail account and rely on it to receive mails account registration mails, bills, bank statements etc. Now, these are all gone.
Gmail is the most popular mail service because its excellent user experience and simple interface. Most of US universities are using Gmail as their main mail service provider, people who apply these universities will receive the application letters from these mail systems backed up by Gmail. This means those applicants from China may face problems receiving the letters from the universities they apply.
When asked about what the Chinese government's attitude on this, Chunying Hua, Ministry of Foreign Affairs of China news spokeswoman, responded that she was not aware of the details about this incident and she suggested the reporters could request the details from the departments which were responsible of dealing with this. She emphasizes that Chinese government welcomes all investors who can promise doing their business legally in China and the Chinese government is willing to provide an open, transparent and fair environment for all investors from other countries.
A Google spokesman also responded about the cut out of Gmail in China and he said that they did some check on their side and found no evidence of breakage of server side service. This indicates that Google didn't do anything wrong technically on their side which would lead to this issue.
This incident is continuing and no official response from Chinese government yet on this incident.
RELATED
---
0

COMMENT
---
---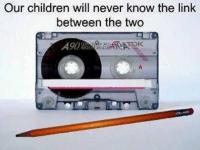 By sonic0002
What are you using to listen to music today? iPod, iPhone or other MP3 players? Have you ever seen the above object? Have you ever seen above music cassette tapes in real? I believe these are the objects beloging to people born in 70s and 80s. Do you know what are the connection between the above tw