Technical Article => Business =>

Tencent
WeChat has 100 million international users now
---
Just one month ago, Tencent announced that it had 70 million international users outside of China mainland. Today, they announced that WeChat hit 100 million international users.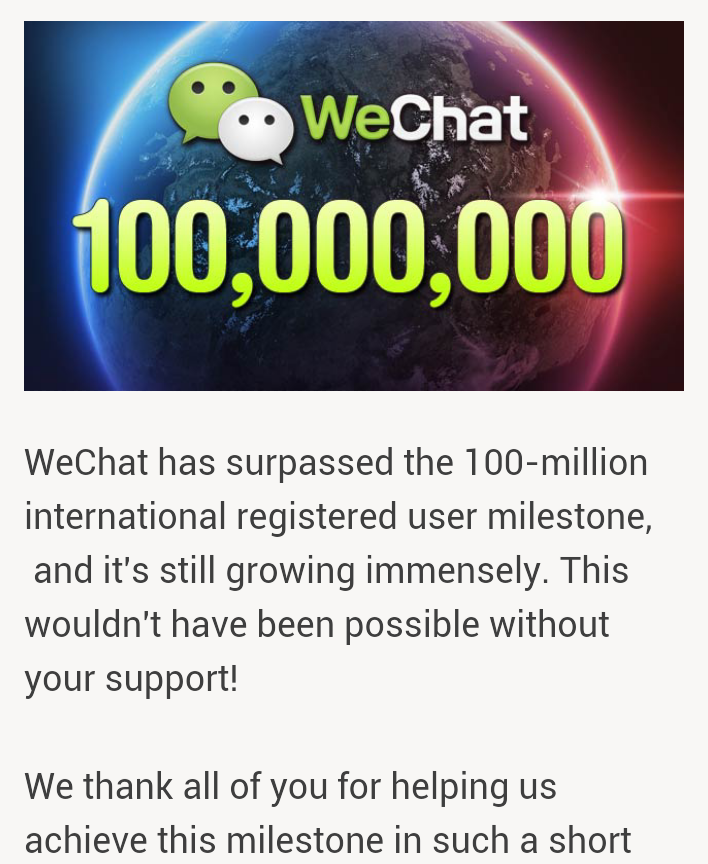 In just one month, the international users increase by 30 million. WeChat becomes one of the most tough competitors in the international IM market. Although there are still Whatsapp, Line and some other IMs, WeChat provides many different robust features, especially in the newly released WeChat 5. The new features in WeChat 5 include sticker shop, game center etc.
Below is the announcement of WeChat team:
WeChat has surpassed the 100-million international registered user milestone, and it's still growing immensely. This wouldn't have been possible without your support.

We thank all of you for helping us achieve this milestone in such a short span of time.

To our fellow friends, and to future users, we promise to continue to bring you more innovation and an even better experience.
The internationalization roadmap of Tencent is spreading. They will be more challenges and opportunities to Tencent in the future. They must provide more and more attractive products to users in order to survive in the international market.
RELATED
---
1

COMMENT
---
---