Technical Article => Business =>

Google
Google releases Analytics real time API
---
According to Tech Crunch, Google finally released its Analytics real time API. Although this feature was launched two years ago, there was no convenient way for webmasters to adjust the data so that they can be viewed properly. Now developers can use the API to get what they want and utilize these data to do what they want to. Developers need to apply for using the API now.
Once you get access to this API, then you can search your own real time data and utilize these data as you want to. For example, you can embed a visitor counter on your website or even build an application to display active users on Peeble. In addition, you can change the website's design and style with these data, for example, if there are many visits from Reddit all of a sudden, then you may need to add a Reddit button right away.
The read time data on Google Analytics include active users number, the pages visitors are reading and visitor location and sources etc. Although Google didn't reveal what features this API includes, the core functions should be available to developers.
RELATED
---
0

COMMENT
---
---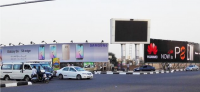 By sonic0002
This is the second advertisement after the initial one at Next is now. Definitely the fight is on. Samsung : Next is now Huawei : Now is P8.