Technical Article => China =>

China
Lenovo becomes the king of PC
---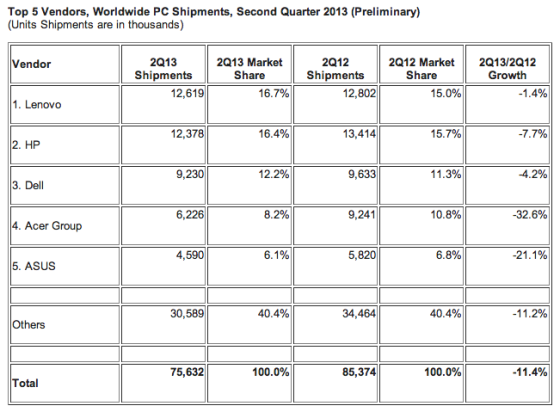 According to Sina Tech, Data from market research firm IDC and Gartner shows that Lenovo defeats Hewlett-Packard to become the largest PC manufacturer in the world In the second quarter , global PC shipments dropped by 11%, the fifth consecutive quarter of decline.

In October 2012, Gartner ranked Lenovo as the world's largest PC manufacturer, but IDC data ranked HP as the largest PC manufacturer. However, the rank of largest PC manufacturer between IDC and Gartner has no difference this time.

Gartner's data shows the shipments of Lenovo PC were less than 12.7 million units in Q2, while HP had a shipment of 12.4 million units which was slightly less than that of Lenovo, The market share of the two companies are about 16% for each. In the second quarter, worldwide PC shipments were 76 million units. HP's shipments dropped by nearly 5%, while Lenovo's shipments fell slightly as well. Dell ranked the third, its PC shipments were less than 9 million units, down by about 4%. Acer and Asustek ranked fourth and fifth, their PC shipments were down by 35% and 20% respectively.

IDC's data shows HP's PC shipments fell nearly 8% in the second quarter. The top five PC manufacturers are consistent with Gartner.

Mr. Yuanqing Yang, Lenovo's chairman and CEO, said: "Even in the most severe ever PC market environment, Lenovo not only achieved a market share of the growth, but also gradually improved profitability. We have produced innovative products in each market segment. The battle for PC leadership could certainly still go back and forth, but I am confident that the global PC market still has enough space to support profitable growth and innovation breakthrough. "
Mr. Yuanqing Yang tries to convince us that PC is not dead, although it's facing the hit from mobile Internet. They want to attract users by innovation on PC and he expects the PC market to boom in the future.

Hewlett-Packard said in a statement: "We don't like being No. 2 and we don't plan to stay there,. We support multiple operating systems, multi-dimensional and multi-architecture, which we believe will attract users and drive share up. We also focus on creating a profitable business. "
The battle for PC leadership could certainly still go back and forth. But it seems this is not what consumers care most about now. Consumers may be more interested in the battle between Android and iOS. This can be seen from the news on each release new Android or iOS.
RELATED
---
0

COMMENT
---
---