Technical Article => Business =>

Google
Understand how Larry Page leads Google judging by what he says
---
Larry Page is the head of one of the world's greatest companies : Google. For a long period of time, Page and the other co-founder Sergey Brin managed the company together. In 2001, Eric Schmidt took over the company, became Google's chairman and CEO. Until 2011, Page replaced Schmidt as the company's CEO.

Page has undoubtedly played a pivotal role in Google's development. How did he push Google to today's height? Some of his quotations might be able to give the answer to this question.
In my opinion, one of the reasons for our success is we didn't intend to start and run a company at the beginning.
After you invented something useful, you need to let people use it, therefore you need to make t commercialization. The best way to commercialize it is to found a company.
You might think that service provided by Google now is great, but I think it is still very bad.
Can not do bad things, the approach is try best to do good things for users, for customers and for everyone. If what we do gets recognized by people, we would be satisfied.
If you want to change the world, then you have to do some important things every day. Only by this way, you will be highly motivated every day when you get up.
If we do something because of money, we would have sold the company and lie on the beach.
I prefer to let the outside world think we are very confused, we do not want our competitors to know what we do next as well.
I like this state: I can meet and talk to anyone.
Too many problems need to be addressed in the world.
As the leader of the company, my task is to ensure that every employee of the company has a very good opportunity for development so that they feel that what they do every day are meaningful to the company and society.
We need to build our company like home, we need to make employees have the sense of belonging to the company to stimulate the potential of staff and improve efficiency.
We want to develop high quality products which every one will use and love to use. We want our products to become an indispensable part of people's lives, so they can use twice a day, just like people brush your teeth twice twice a day. We have to say there are not too many this kind of products.
Source : http://www.36kr.com/p/200049.html
RELATED
---
0

COMMENT
---
---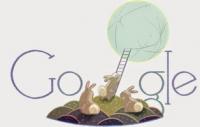 By sonic0002
This is the Google doodle in Hong Kong for 2014 Mid-Autumn festival. Are you serious, Google? Do Chinese need to climb the ladder to see the moon? Are you meaning that the Chinese need to bypass the Great Firewall to use Google?