Technical Article => Operating System =>

Windows
Office will finally be on iOS and Android in 2013
---
It was confirmed that Office would land on iOS and Android platforms by Microsoft in October. Microsoft claims that Office will be on these two platforms in some way. Now many sources indicated that Office will be officially launched at the beginning of 2013.
It is reported that the mobile version of Office will be free on Android and iOS, it allows users to view Office documents. Mobile version of Office also requires a Microsoft account just like SkyDrive and OneNote App. After login, users can do some corresponding operations. The released Office will include Word, PowerPoint and Excel, but some advanced features can be used only after upgrading to Office 365.
Microsoft will allow iOS users to upgrade Office to Office 365 through In App Purchase method, but this App will support very limited editing features, but Microsoft claims that it will not be too long that it will replace desktop Office.
The time for Office on these two major platforms will be possible at the end of February or early March, it will first land on iOS, and the Android version will be released in May.
Source : http://www.36kr.com/p/167919.html
RELATED
---
0

COMMENT
---
---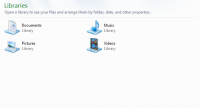 By sonic0002
Everytime you will see the above window when you click the left bottom icon next to the start menu on taskbar. But have you given a look at the openning window which shows the Library view? At least not for me.