Technical Article => Business =>

Google
Google wins the lawsuit against Oracle
---
According to The Next Web, San Francisco court has made a final decision that Google didn't violate Oracle's Java patent.
Although previously some judges and some people in jury said that Google made some mistakes on Java's use. The final decision made by the court saves Google from the charge of Java patent infringement. The next step of this lawsuit was supposed to be the evaluation of the damage and compensation. But now because of court's decision, this step is jumped over.
One spokesman of Google said today that the victory of the lawsuit is not only the victory of Google,but also the victory of the entire Android ecosystem.
Background :
Oracle Corp. had accused Google Inc. of patent and copyright infringement. Much of the dispute is over Google's Android, the mobile operating system that now powers more than 300 million smartphones and tablet computers.
Reference : http://news.mydrivers.com/1/228/228936.htm
RELATED
---
0

COMMENT
---
---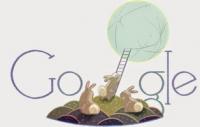 By sonic0002
This is the Google doodle in Hong Kong for 2014 Mid-Autumn festival. Are you serious, Google? Do Chinese need to climb the ladder to see the moon? Are you meaning that the Chinese need to bypass the Great Firewall to use Google?