Technical Article => Career =>

Career
On Employers, Portfolios, Commitment, and Cake
---
You might know from experience that planning for a wedding is no simple feat. In the months leading up to our wedding, my then fiancé and I spent countless hours planning and making sure that no detail was overlooked. Among our top priorities was finding a skilled baker to create a delicious and beautiful cake. On the recommendation of a friend, we considered a baker named Jennifer. We read her "culinary resume." We were impressed by her references and experience, and our initial conversation with her went really well. Still, we didn't want to make an important, life-affirming decision about our wedding cake based on recommendations alone, so off we went to do a tasting. The proof, as they say, is in the pudding (or in this case, cake), so we sat down and sampled five or six flavors (one of the sacrifices you have to make when entering into a committed relationship with cake). Each cake was excellent, but my favorite was the Bailey's Irish Cream cake. We knew the moment we tasted that cake that we had found our baker!
We were gratified to find that the baker did indeed possess the skills she'd listed on her resume and we ultimately ordered two types of cake: a Bailey's Irish Cream cake and a chocolate cake.
Another element that's traditionally incorporated into a wedding is flowers. People often enlist a florist to help them choose and arrange wedding flowers. Faced with the overwhelming number of florists out there, they count on recommendations from friends along with a florist's credentials to sift through the many candidates. Certifications help; an FTD Certification indicates that a florist has spent a significant amount of time designing flower arrangements and bouquets in order to earn a florist license. Even with that certification though, you still won't know whether a particular florist is right for you until you view their work. Only after visiting their shop and looking at actual floral arrangements they've created, will you have tangible proof that a florist is equipped, skilled, and also shares your vision.
Employers of all sorts use a similar selection process to screen job applicants. Whether they're looking to hire specialists to help plan a beautiful wedding, or skilled programmers to work in their IT departments, a resume with strong certifications will help open doors to new opportunities. OST certificates will provide you with verification that you've mastered our courses and can help you land interviews, but what do you do once you get in the door?
When you sign up for an OST course, you are given a special account on our servers that holds all of your projects, from all of your courses, for as long as you wish to maintain the account. The availability of a student account to house student projects for the long haul is unique to OST and allows our student to access a complete portfolio of finished professional-grade projects to share with current or prospective employers. Your OST portfolio serves the same purpose as the cake did at our tasting, or as the real flower arrangements displayed at a shop. OST projects allow you to show employers real projects that you've created and offer them concrete proof of your skill:
If you are going after a web development job, show your websites! Demonstrate your HTML and Javascript skills. If you know PHP, show them what you have done.
Is your goal to be a linux administrator? Offer to do a live demonstration of some common administrative tasks using your OST lab account and "hottub" (your own linux server at OST).
Do you want to be a database administrator? Show prospective employers that you can set up a new database and users with limited permissions. Show some of the queries you've written to answer common business questions.
Successful bakers, florists, and photographers know that the key to booking a wedding is to have demonstrable proof of their skills. Programmers with the ability to do the same thing, on-the-fly, during a job interview have a clear advantage over those who cannot. And even after you've landed a job you like in your chosen technology, maintaining a working portfolio of projects will continue to be extremely useful. You can draw upon them to help you with pending professional projects, or offer them as further evidence that you're prepared for career advancement.
As our students continue to prove, demonstrating skills to an employer in the form of real projects can and does make all the difference.
Source:http://blog.oreillyschool.com/2012/02/looking-for-a-job-show-your-skills.html

RELATED
---
0

COMMENT
---
---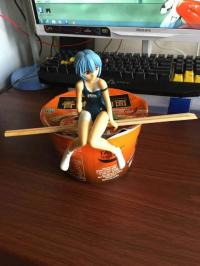 By sonic0002
A meal of a programmer. With this doll, it's not just a cup of instant noodle now.