What are the differences between Samsung Galaxy S3 and S4?
Samsung released Samsung Galaxy S4 today. It introduces many new features such as new eye tracking software which will automatically pause your video when you look away from the phone etc. So what are the differences between S3 and S4? Mainly in functional or in physical configuration?
1

ANSWER
---
In my view,there are not big differences ,but samsung smartphone is very good such as cute UX,fast reponse。。。。。。。
---
POST ANSWER
---
Sorry! You need to login first to post answer.
OR
SUBSCRIBE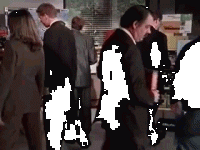 By sonic0002
This scene happens at the Roxbury theme one night back in 90's. The original video can be found at YouTube.