What does it mean to Google that its market value exceeds that of Microsoft?
On Monday(1st Oct,2012) around 11AM, Google's share price rises $5.96 to $760.46 per share, while Microsoft's share price drops 17 cents to $29.59 per share. Google's market value reaches 249.05 billion US dollars and Microsoft's market value is 247.73 billion US dollars. This means that Google's market value exceeds Microsoft's market value the first time. Apple's market exceeded Microsoft's market value the first time in May, 2010. After that, Apple's market value increased continuously and reached history high in the past month. Will Google follow the same path as Apple? What does this mean to Google? What's happening to Microsoft?
0

ANSWER
---
No answers available. You can post your answer below.
POST ANSWER
---
Sorry! You need to login first to post answer.
OR
SUBSCRIBE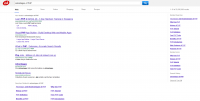 By sonic0002
When I search something on Ask.com, the first page which I can see is full of ads. Is this Ask.com or is it Ask.ads?