Why do people like using Apple computer to program?
Many times when we check the documentation of a project, we can see some screenshots about how the product works. Frequently, we can find the screenshots are captured using Apple computer. Why do people like using Apple to do demo or programming? Is it better to use Apple for programming? Or is it just for cool?
0

ANSWER
---
No answers available. You can post your answer below.
POST ANSWER
---
Sorry! You need to login first to post answer.
OR
SUBSCRIBE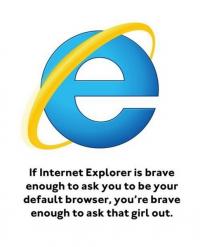 By sonic0002
If Internet Explorer is brave enough to ask you to be your default browser, you're brave enough to ask that girl out. Do we have to be so cruel to IE?