Is a new round of Web Browser war going to start?
Recently Yahoo launched its own browser Yahoo Axis. It aims to be a faster and smarter search browser. In addition, some source says that Facebook is going to acquire Opera. It will also go into web browser market. So do you think a new round of web browser war will begin among Google,Microsoft,Mozzila,Facebook and Yahoo and some others?
0

ANSWER
---
No answers available. You can post your answer below.
POST ANSWER
---
Sorry! You need to login first to post answer.
OR
SUBSCRIBE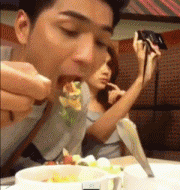 By sonic0002
A Thailand couple was having dinner, the girl was taking photoes of herself. You know waht happens in the end?