What do you think about the victory of Google against Oracle ?
Oracle Corp. had accused Google Inc. of patent and copyright infringement. Much of the dispute is over Google's Android, the mobile operating system that now powers more than 300 million smartphones and tablet computers.San Francisco court has made a final decision that Google didn't violate Oracle's Java patent.One spokesman of Google said today that the victory of the lawsuit is not only the victory of Google,but also the victory of the entire Android ecosystem.
0

ANSWER
---
No answers available. You can post your answer below.
POST ANSWER
---
Sorry! You need to login first to post answer.
OR
SUBSCRIBE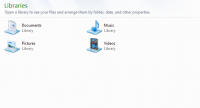 By sonic0002
Everytime you will see the above window when you click the left bottom icon next to the start menu on taskbar. But have you given a look at the openning window which shows the Library view? At least not for me.