Will Qt be better?
Qt team is to be transferred from Nokia to Digia. This means that Qt team can continue to work on Qt instead of being fired by Nokia. Qt is developed by an open source project, the Qt Project, involving developers as individuals and from firms working to advance Qt, such as Nokia, Digia, and others.Although Qt now is an open source project, Nokia has a Qt development team which contribute much on Qt. Do you think that Qt will be better after the transfer?
0

ANSWER
---
No answers available. You can post your answer below.
POST ANSWER
---
Sorry! You need to login first to post answer.
OR
SUBSCRIBE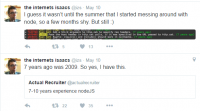 By sonic0002
When someone wants to hire someone with 7-10 years NodeJS experience, the NodeJS author jumped out and said that he had just 7 years experience of NpdeJS because NodeJS was created in 2009, which is 7 years ago. What an embarrassment for the recruiter.