Will HTML5 become the king of future?
The next version of HTML, HTML5 is bringing big change in software development, web and mobile apps development. It can be used to develop all kinds of apps, not restricted on HTML pages. It is also portable, this can largely reduce the development cost. It seems that HTML5 will be the king of future. What's your opinion?
0

ANSWER
---
No answers available. You can post your answer below.
POST ANSWER
---
Sorry! You need to login first to post answer.
OR
SUBSCRIBE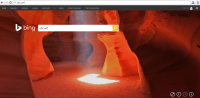 By sonic0002
When you type abc.xyz, you will see the homepage of Alphabet, the new parent company of Google. But what if you type abc.wtf in your browser address bar? Go and give a try and don't forget to give us a like.