Why don't programmers get enough respect?
Software, as Marc Andreesen said in his famous editorial, is becoming a larger and larger part of our daily lives. Given how important software is, then, you'd expect computer programmer - the task of developing and maintaining software - to be one of the highest-paid, most-wanted jobs. It isn't. Why not? Why don't programmers get enough respect? Are they just geeks or nerds?
0

ANSWER
---
No answers available. You can post your answer below.
POST ANSWER
---
Sorry! You need to login first to post answer.
OR
SUBSCRIBE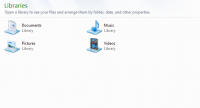 By sonic0002
Everytime you will see the above window when you click the left bottom icon next to the start menu on taskbar. But have you given a look at the openning window which shows the Library view? At least not for me.