Will you buy Microsoft's new PC : Surface?
Microsoft unveiled Surface: PCs built to be the ultimate stage for Windows. Surface is designed to seamlessly transition between consumption and creation, without compromise. It delivers the power of amazing software with Windows and the feel of premium hardware in one exciting experience. Some people think it's a revolutionary product. Some people think Surface is just a mini-laptop without any new features. Will you buy the new PC? What's your reasons for buying it? Or What's your reasons for refusing to buy it?
0

ANSWER
---
No answers available. You can post your answer below.
POST ANSWER
---
Sorry! You need to login first to post answer.
OR
SUBSCRIBE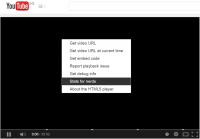 By sonic0002
The YouTube HTML5 player is naughty. As a nerd, you can view the stats of the video playing now. These stats are not how many views or likes but how many frames are dropped and bandwidth etc. Google always brings us some surprise.