Why is C still alive?
It has been around 40 years since C was invented by Dennis Ritchie. Now C is still alive and is a very popular programming language. Although many new languages which they claimed very powerful, simple and user friendly emerged during these years, C still remains on the top. What are the reasons for its success? What's your understanding about C. What's C's future?
0

ANSWER
---
No answers available. You can post your answer below.
POST ANSWER
---
Sorry! You need to login first to post answer.
OR
SUBSCRIBE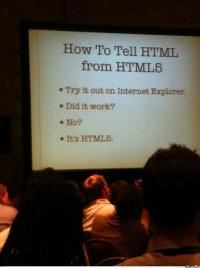 By sonic0002
How to tell HTML from HTML5? Follow below steps: Try it out on Internet Explorer Did it work? No? It's HTML5