What does your work cubicle look like?
As an IT professional, we will spend much time at our work cubicle because we need to sit in front of our workstation. What is your cubicle looking like? Show the world what your work environment is? How fancy is it? How geeky is it?
1

ANSWER
---
POST ANSWER
---
Sorry! You need to login first to post answer.
OR
SUBSCRIBE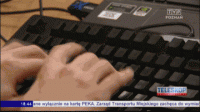 By sonic0002
A TV program visits one game company. The programmer doesn't want to showcase his programming skills to the world. So he did this. Can you write code like this?