What's your feeling about iOS 7?
Apple has released the biggest redesign of iOS -- iOS 7. As a fan of Apple, have you upgraded to the new OS? What's your feeling about the new design? Are you used to the redesign?
6

ANSWERS
---
cool string

---

Reply to

sonic0002

:

Not only is the app better on the eyes, but it is considerably easier to navigate. The file manager is nearly comparable to what you can do on the desktop in Finder, and you can even drag-and-drop to move files around.


REPLY

@

crispycodes
---
---
---
---
---
---
POST ANSWER
---
Sorry! You need to login first to post answer.
OR
SUBSCRIBE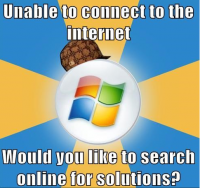 By sonic0002
When the Windows prompt you that "Unable to connect to the Internet, would you like to search online for solutions?". What would be your next reaction? Tell me. I promise I will not tell anyone else.