Sorry! The article does not exist or it may be deleted.
You can read other articles
here
.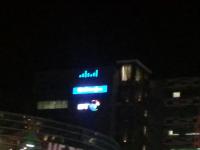 By sonic0002
A Cisco logo on one Cisco building. Does this reflect the status quo of Cisco where it loses its power or signal in the network market? Obviously it's in a tough stage.
CONTRIBUTE
---
Share your geeky stuff now.
You make the world better, the world makes us better.
WRITE ARTICLE
VERSION
---
No other version available yet.