Technical Article => Business =>

Google
Google Nexus Event Live
---
Google is going to have new Nexus product release at 12 o'clock 30th September(Beijing time). This new Nexus will ship with the latest Android 6.0 Marshmallow system from Google.
Here is the live stream from YouTube.
Two Nexus phones are expected to be unveiled tonight. They are from LG and Huawei respectively.. The Nexus 6P is Huawei's first Nexus device and will be available for pre-order on Tuesday in the U.S., U.K., Ireland, Canada and Japan starting at $499.99 and the device features a metal body,
RELATED
---
0

COMMENT
---
---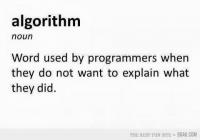 By sonic0002
Do you know what is an algorithm? As a programmer, you have to know. Algorithms are word used by programmers when they do not want to explain what they did.