Technical Article => Business =>

Google
YouTube video player control bar becomes transparent
---
YouTube has made an update on its video player control bar and made it general available to the public now. The update is to make the video player control bar transparent and float on top of the videos being played. There are no functional changes about this control bar.
The original control bar is black but not transparent.

After the update, the control bar looks like:

YouTube started to test this new change back in April 2015. At that time, it was tested in a small scale and only a small group of people can see this change. Now it's generally available for public. Compared to the old design, the new design is more attractive and more consistent.
This is another big change to the player after its change from Flash to HTML 5 video player in January 2015.
RELATED
---
0

COMMENT
---
---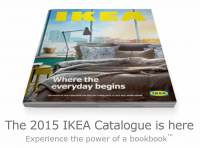 By sonic0002
IKEA 2015 Catalogue bookbook. Download a free copy or upload yourself to IKEA. Give you an advice, IKEA, be careful of the DOS attack. If you are in mainland China, please watch the video IKEA Bookbook. To be honest. A very creative design.It gets over 10 million visits in less than 15 days.