Does Android team like to eat Kitkat?
Google released the new Android development code for Android 4.4 :KitKat.The new version will bring astonishing user experience for Android users.
The interesting thing about the name is that it has the same name as one brand of Nescafe's chocolate wafer. Nescafe has authorized that Google can use this name as their development code. We may guess that the project team or the director was eating Kitkat or like to eat Kitkat while they were brainstorming the new development code, so they came out this one for the new version.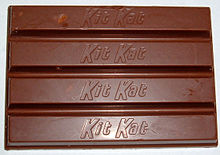 Let's look back the previous development codes of Android.
1.0:Android
1.5:Cupcake
1.6:Donut
2.0/2.1:Eclair
2.2:Froyo
2.3/2.4:Gingerbread
3.0/3.1:Honeycomb
4.0:Ice Cream Sandwich
4.1/4.2/4.3:Jelly Bean
4.4:KitKat
Below is the announcement of Google:
Android KitKatPrepare for a sweet new treat

Android is the operating system that powers over 1 billion smartphones and tablets. Since these devices make our lives so sweet, each Android version is named after a dessert: Cupcake, Donut, Eclair, Froyo, Gingerbread, Honeycomb, Ice Cream Sandwich, and Jelly Bean. As everybody finds it difficult to stay away from chocolate we decided to name the next version of Android after one of our favorite chocolate treats, Kitkat®!
It may be because when one Google engineer or the project director was eating Kitkat while he was thinking about the new development code.
Save as PDF
Mark as read
Mark as important


By clicking the "Mark as read" button, this article will be marked as read. It will be removed from the homepage's latest news and the article list on the "Technical article" page in following visits and it will be put to your read list which you can find in "Amin->Article read list". There you can unmark the read articles.
By clicking the "Mark as important" button, this article will be put to your important article list which you can find in "Amin->Article important list". Later when you want reread this article, it's easier for you to find it by checking the "Article important list".
Tags : Android,Kitkat,development code Read(1644) Comment(0) Version(0)







Previous : Time-saving tips Linux users should know Next : Do you have this kind of comments in your source code?
::Related Articles
::Comment Zone (Total 0 comment)
::Comment
:: Other versions
No other versions available yet.
:: Recent articles
:: Most read
:: Contribute
Want to share with the world your understanding about technology? Want to record the process you solve a technical problem? Want to make the world benefit from your understanding and solution? Write them down. You make the world better, the world makes us better.
Write article
:: Find us