Technical Article => Business =>

Startup
What's in common between building a startup and having a baby?
---
Many young people put their dreams into their own startups. Building a startup not only needs your idea, it also takes time and effort. You also need to take the risk of failing. Actually, a startup is just like your own baby, you spend day and night with it, you are excited with its growth. What's in common between building a startup and having a baby? One popular summary is :
1. The conception is the most fun part.

2. Then getting the darn thing to take birth is painful

3. In the early months and years it keeps you awake night and day

4. During this time, there are only two modes - "in tears" and "not yet in tears"

5. It takes 2 to 3 years before it starts to move by itself

6. It takes 3 or 4 years to discover its own voice

7. And 8 to 10 years before you can leave it alone for extended periods and be confident it won't self-destruct
During this process, you might be frustrated some time, you might be exhausted as well, or even you might quarreled with teammates. But once you see it's growing healthily, every other thing has gone, the only thing left is happiness.
So for those who are building a startup, stick to it. You will be paid back for what you have done.
RELATED
---
1

COMMENT
---
---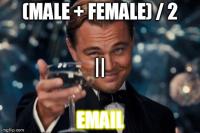 By sonic0002
(male + female) / 2 = email. That's the case.