Technical Article => Other =>

Other
Read 10 new books from O'Reilly for free
---
Recently O'Reilly provided free access to some books. Some of them are even in early release status. Here we recommend 10 of them.
4、High Performance Browser Networking
6、Test-Driven Development with Python
7、Interactive Data Visualization for the Web
9、Programming JavaScript Applications
10、Agile Data
Source : http://linuxtoy.org/archives/oreilly-new-books.html
RELATED
---
COMMENT (TOTAL
2

COMMENTS)
---
---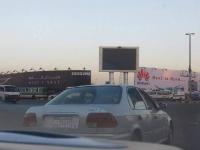 By sonic0002
This is an advertisement at a crossing in Mid East. The two big smartphone manufacturers are tying their best to promote their products. Apparently Huawei is winning this ad battle. Here is the next one of this series of advertisements of these two companies. This really shows the art of advertising
CONTRIBUTE
---
Share your geeky stuff now.
You make the world better, the world makes us better.
WRITE ARTICLE
VERSION
---