Technical Article => Other =>

Other
A tour to Tumblr's office
---
This week Yahoo has made a deal with Tumblr that Yahoo would acquire Tumblr with $1.1 billion. The reason why Yahoo wants to acquire Tumblr is still not so clear. It may be because they don't want to miss the chance again after they missed the chance to acquire Facebook. But anyway, let's take a tour to the office environment of Tumblr.
The big logo after entering the door.
The office building in Tumblr has two floors. Most people are working on the first floor.
Cute decorations
Technical team are have meeting in the kitchen. It's more efficient when every one stands.
Food in the kitchen. Employees can get them themselves if they want. There are fans letters on the fridge
Men's washroom and women's washroom
Tommy is the pet of all
One corner of the office. Founder of Tumblr David Karp is smiling
Entertainment
Each meeting room has an interesting name
If the weather is bright. Here will be crowded
That's all for the tour. How do you like the office in Tumblr?
Source : http://www.36kr.com/p/203471.html
RELATED
---
0

COMMENT
---
---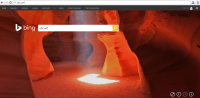 By sonic0002
When you type abc.xyz, you will see the homepage of Alphabet, the new parent company of Google. But what if you type abc.wtf in your browser address bar? Go and give a try and don't forget to give us a like.