Technical Article => Business =>

Google
Google to build Google Babble to unify all its chat tools
---
--Note : Image is from www.36kr.com
If Google Talk / Hangout / Voice / Messenger are put together, what will you find?

They are all chat tools launched by Google, but with careful comparison, you will find that the difference between them is not very big. The useful tools are Google Talk and Google+, but both of them needs to be improve their user experience.

According to Geek.com, Google is planning to launch a chat application Google Babble which will integrate all its chat tools and service,

Using Google Babble, users only need to open one chat window, you can use all of Google's chat functionality. You share photos with your friends just like in G+ Messenger, or you can also start Hangout by selecting any friend.

In short, Google will integrate all its independent chat tools into a star-class product. Then, Babble to chat is just like Gmail to Mail.

Babble will also be an application available on Android and Chrome OS, But at the moment we are not clear about the specific release time and how Google will launch Google Babble,. According to Geek.com, if the news is true, the most likely time is in Google I/O Assembly this May.
Source : http://www.36kr.com/p/202002.html
RELATED
---
0

COMMENT
---
---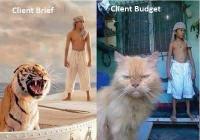 By sonic0002
Sometimes plans are quite different from realities. This is true especially in IT induestries. Usually when a client starts to present their plan, they have a really great vision. However when comes to the budget, the client runs into difficult.